Your business doesn't know how to analyze customer insights? Want to determine where your business is in the market? Or do you simply want to know if the company's employees are positive about their current job or the company? What needs to be done to retain employees?
If your business is interested in the above, then MPHR's Market Research and Survey Service is the solution for you.
With a team of highly qualified personnel, MPHR is proud to be the leading market research and survey service provider in Vietnam. MPHR always adheres to the commitment of time, cost, transparent legal requirements, so that customers feel secure when using our services.
MPHR's market survey service packages
Survey and collect customer opinions – The basis for building effective marketing and business strategies for businesses in all fields.
Brand positioning/market share survey – Capture customers' perception of brands, products and services; Identify competitors and industry trends.
Labor market income survey – Assess the overall quality of the profession through the average salary at different ranks.
Employee satisfaction survey – Improve policies, working environment, attract talent.
Hotline: 024 5678 0166
What will the customer receive?
Cost savings with highly accurate numbers compared to self-deploying surveys at enterprises

Team of experts, experienced

Survey service committed to deadlines and legal compliance

Greater accessibility to the market of interest

The research and survey process takes place quickly, neatly, and flexibly changes according to each customer's needs
MPHR's Survey & Market Research Methodology
Telephone survey

– MPHR built a clear survey process, with surveyors with skillful communication skills, detailed scenarios to easily exploit information. Flexible reporting system.

Online survey

– Customers will experience a quick, accurate, secure and secure 4.0 technology online survey service by OTP and regularly report project progress.

Direct interview

– The method of market research by direct interview is usually carried out in places with crowded places, randomly intercepted on the street, to ensure compliance with customer requirements.

Confidential Customers

– MPHR has a lot of experience in recruiting and training secret customers (Shoppers) and a team of supervisors up to hundreds of employees nationwide, along with all the necessary equipment to serve. customers secretly collect data. Meet even the most demanding customer requirements.

Collect information in the market

– Use mainly websites and search engines to collect huge amounts of information, general surveys to find out industry trends or market trends.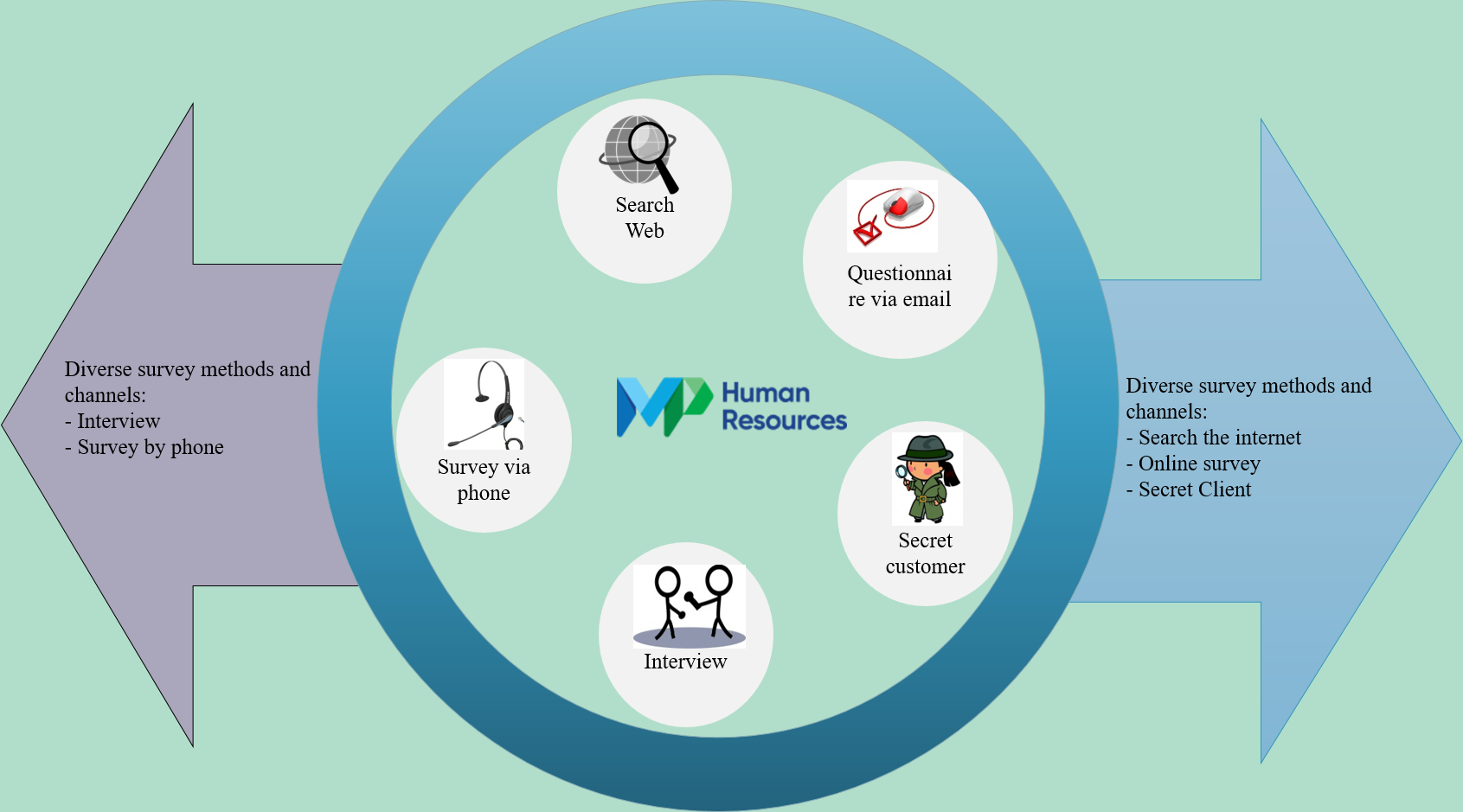 MPHR's process of providing market research and survey services
Step 1: Receive customer survey request
Step 2: MPHR analyzes the survey request, responds back to the customer within 24 hours, discusses options and costs
Step 3: Sign the contract and make a deposit
Step 4: Collect, synthesize and analyze the collected information.
Step 5: Make an evaluation report at the request of the customer
Step 6: Confirm completion, perform customer care.
MPHR – Provide survey and market research services
If you are in need of a market survey, you can leave your contact information or call the MPHR hotline. We are available to answer any questions about MPHR services 24/7.
Thông tin liên hệ:
MPHR – The No. 1 HR Solution Provider in Vietnam
– Head office: 10th floor, Sudico building, Me Tri Street, My Dinh 1, Nam Tu Liem District, Hanoi
– Ho Chi Minh City Branch: 36-38A Tran Van Du, Tan Binh, Ho Chi Minh City
– Hotline: 024 5678 0166
– Email: admin@mphr.com.vn